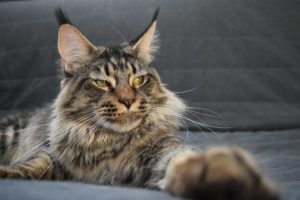 Welcome everyone interested in our cats and our home cattery.
There were always animals in our house, primarily cats.
Our cats are part of our family. We try to give them everything what's best there, in this as much as possible love and tenderness.
We give a lot of love and passion into raising every litter – They are not only cats for us but small cat children which we want to ensure the best possible future and loving keeper for the rest of their lives.
Main Coon is the best in the world because of their nature, bond with humans and great intelligence.
All our cats live with us and are treated like a member of the family.
Our cats are under constant veterinarian care and are fed with feeds from reputable companies and raw meat.
Cattery is a member of PZF, part of World Cat Federation (WCF). We invite you to explore our cattery!
.